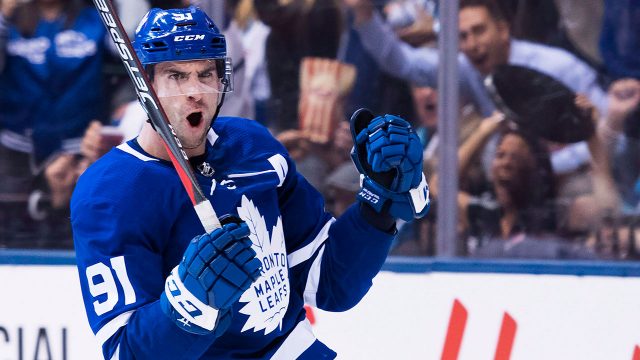 TORONTO – Until they meet again.
Saturday's airtight finale of the Toronto Maple Leafs and Boston Bruins' regular-season series had all the feel of more to come.
Boston won 3-2, but the home side generated enough chances and maintained a high enough pace throughout that one couldn't help but wonder if Frederik Andersen (still sidelined with a groin injury that ran into a flu bout) might've made the difference.
"I think Boston plays a quick game," says Leafs coach Mike Babcock, explaining the difference between the Bruins' attack and the rugged clampdowns of Nashville and Minnesota that recently humbled his club at home.
"They rely on a group of forwards to really set the tone for them. They rely on their power play a lot. They've got a couple of guys on the back that are really mobile. But they defend good and they make it hard on you.
"As far as the style goes, I think the style is perfect for us, to tell you the truth."
Stream Maple Leafs hockey on Sportsnet NOW
Sportsnet NOW gives you access to over 500 NHL games this season, blackout-free, including Hockey Night in Canada, Rogers Hometown Hockey, Scotiabank Wednesday Night Hockey, the entire 2019 Stanley Cup Playoffs and more.
CHOOSE PLAN
Motivation for his troops?
Gamesmanship knowing the likelihood of another gruelling playoff series versus Bergeron & Co. could be in the cards?
Perhaps both.
"They've had the better of us this year," Mitch Marner conceded.
"It's always tough games against Boston," added Andreas Johnsson. "It's a little bit of an extra feel."
Despite Toronto dominating high-danger chances 8-0 in the first frame, its nemesis proved Babcock correct with quick strikes.
David Krejci drew first blood with a half-clapper from the right circle and winger
Source:: Sportsnet.ca – Sport
(Visited 3 times, 1 visits today)