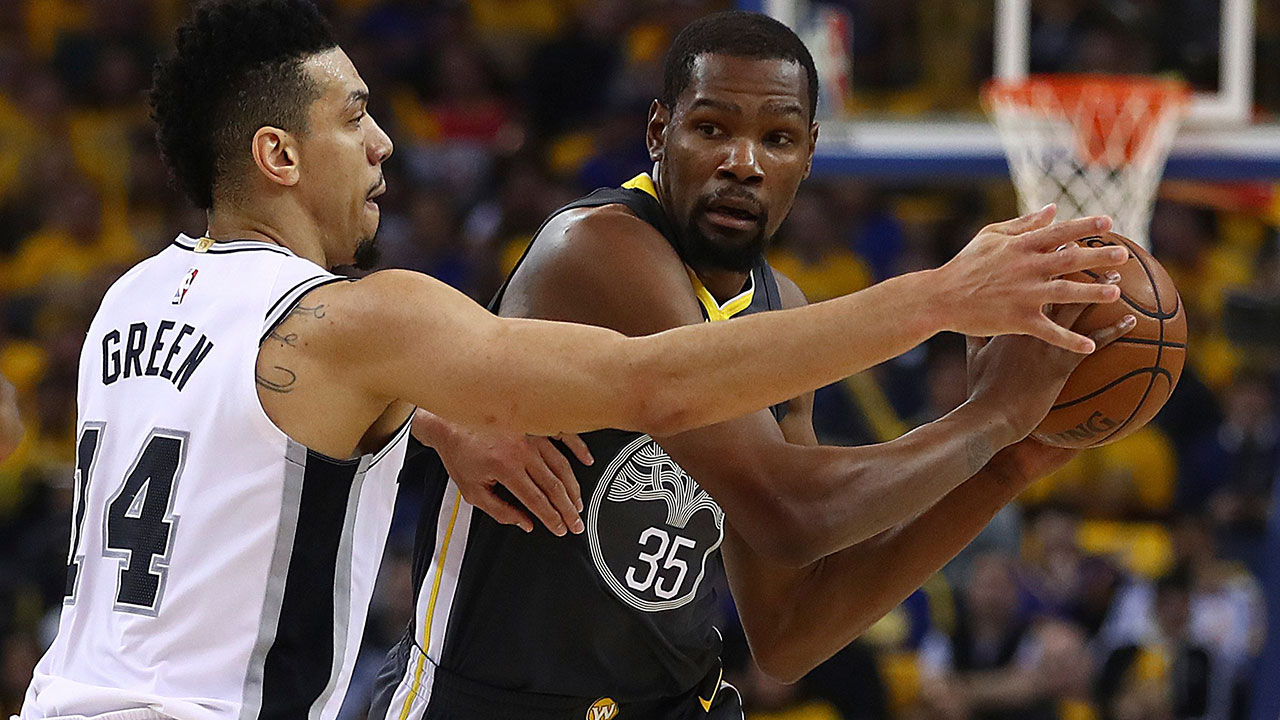 OAKLAND, Calif. — Kevin Durant sparked a decisive third-quarter run on the way to 32 points, Klay Thompson added 31 points and five assists in another superb playoff performance and the Golden State Warriors rallied in the second half to beat the San Antonio Spurs 116-101 on Monday night for a 2-0 lead in their first-round series.
As Stephen Curry remains out likely for the entire series nursing a sprained left knee, the defending champions used all the offensive power they had to take both home games in the best-of-seven series. Wearing a dark checkered sport coat, Curry was all smiles watching another lopsided win without him.
Thompson followed up his brilliant 11-for-13 shooting day in a 113-92 Game 1 rout Saturday by hitting 12 of 20 shots. Durant also had six rebounds and six assists for the Warriors, who went without key backup big man David West down the stretch after he sprained his left ankle early in the fourth.
Coach Steve Kerr stuck with JaVale McGee as his starting centre and the 7-footer contributed 10 points and seven rebounds as the well-rounded defending champions again showed off their remarkable depth.
LaMarcus Aldridge scored 34 for the Spurs and Rudy Gay moved into the starting lineup and scored 12 points.
Game 3 is Thursday as the series shifts to San Antonio.
Thompson managed just three shots in the first quarter and began 1 for 5. He pounded the basketball down with two hands, frustrated, midway through the second quarter. Then he found his groove.
A baseline 3 with 55.9 seconds left before halftime was his first of the night and …read more
Source:: Sportsnet.ca – Sport
(Visited 3 times, 1 visits today)