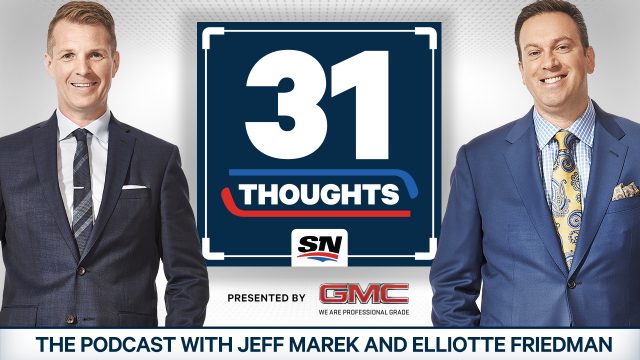 ATHENS, Greece — Greece could be expelled from international soccer competitions because of widespread violence, a FIFA representative said Wednesday.
Herbert Huebel said a series of incidents, culminating with a gun-toting club owner running onto the field to protest a disallowed goal, are "unacceptable."
"Greek football is going to an edge," Huebel said, adding that a potential Greek suspension from international soccer "is not any more impossible."
Huebel met with government and league officials in Athens following Sunday's incident in Thessaloniki at a league match between PAOK Thessaloniki and AEK Athens.
The government has indefinitely suspended league play after PAOK owner Ivan Savvidis — a Russian with strong business interests in Greece — rushed onto the field, accompanied by bodyguards and with a holstered gun strapped to his waist, when the referee disallowed the goal.
31 Thoughts: The Podcast
Sportsnet's newest podcast is a weekly deep dive into the biggest hockey news in the world. New episodes every Wednesday.
Apple Podcasts
| Podcatchers
| Listen Now
Greek league organizers launched disciplinary procedures against Savvidis and PAOK on Wednesday, which could lead to the team being docked points or even relegated, and a maximum five-year ban for its owner.
"We all love football but it's unbearable that people are scared to go to a stadium," Huebel said. "How can you bring children there when there are guns on the pitch?
"The aim of the game is always to win, of course," he added. "But it can't be forced by arms, by threats or even by crime."
Following Wednesday's talks, Greek soccer federation president Evangelos Grammenos said league officials will draft a declaration against violence …read more
Source:: Sportsnet.ca – Sport
(Visited 3 times, 1 visits today)