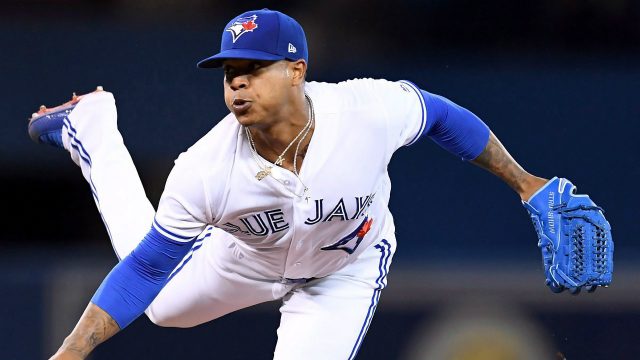 DUNEDIN, Fla. – Carlos Delgado started in left field the last time John Axford was in Toronto for a Blue Jays home opener.
Back on April 4, 1994, Delgado was a powerful prospect with an uncertain positional future. He went deep that day, the first of eight homers he'd hit in April, and among the 50,484 fans watching at SkyDome was 11-year-old Blue Jays fan John Axford.
Twenty-four years later, Axford's chances of witnessing another home opener look better than ever. If the next two weeks go according to plan, he'll break camp with the Blue Jays as a member of their bullpen.
"I've seen everything to this point that I need to see," manager John Gibbons said Tuesday.
Toronto Blue Jays on Sportsnet NOW
Sportsnet NOW is the exclusive home of Everything Blue Jays. Livestream all 162 games, including Blue Jays Central and Jays in 30. Plus, get every single game of the Stanley Cup Playoffs, with no blackouts, as well as key Raptors & NBA Playoffs matchups all in one subscription.
SIGN UP NOW
So far this spring, Axford has pitched effectively, with seven strikeouts in 4.2 innings and just two walks and three hits allowed. He's throwing hard, still up around the 95 m.p.h. he averaged last year, and feeling strong.
The 34-year-old has been relying more heavily on his two-seam fastball this spring, and Gibbons has been impressed by how consistently he's stayed in the strike zone compared to years past.
"There was times he could scatter it," Gibbons said. "That hasn't happened at all this spring, and that's encouraging. I know he feels good, and he still throws really, really hard. He should be pitching in the big-leagues, no doubt."
With an endorsement that strong from Gibbons, it'd be a surprise if Axford doesn't …read more
Source:: Sportsnet.ca – Sport
(Visited 2 times, 1 visits today)