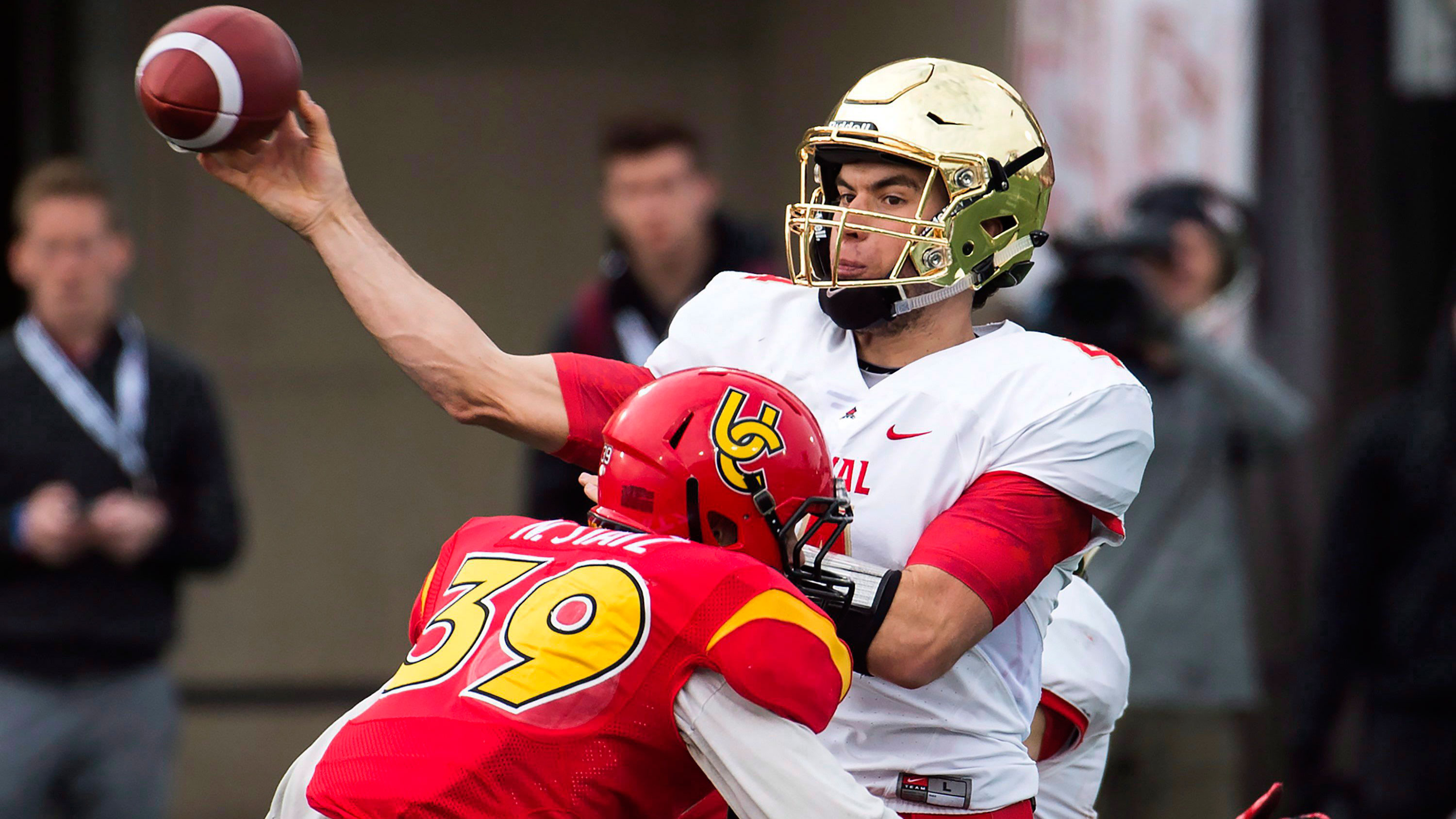 The stage is set for the U SPORTS football national semifinals on Saturday, when the last four teams still standing will battle for a berth in the ArcelorMittal Dofasco Vanier Cup, scheduled for Nov. 25 at Tim Hortons Field in Hamilton.
The Mitchell Bowl follows the Uteck Bowl at 2 p.m. Mountain (4 p.m. Eastern), with the RSEQ champion Laval Rouge et Or (9-1) visiting the Canada West monarch Calgary Dinos (9-1) at McMahon Stadium in a rematch of last year's Vanier Cup, won by Laval at Tim Hortons Field.
Viewers can watch both the Uteck Bowl and Mitchell Bowl live on Sportsnet 360, with coverage beginning at 12 noon ET with a 30-minute pre-game show. The doubleheader is also available online through Sportsnet NOW.
If Saturday's games produce half of the drama witnessed during the conference finals – all won by the home side – fans across the country are in for a treat.
Calgary escaped with a 44-43 Hardy Cup victory over UBC thanks to a U SPORTS-record 59-yard field goal on the final play of regulation, and Laval downed Montreal 25-22 as, for the fifth year in a row, the Dunsmore Cup final between the RSEQ archrivals was decided by three points or less.
Laval's domination of Calgary since the two perennial contenders first battled in 2008 has been well documented. Thanks to a 31-26 come-from-behind victory in last year's Vanier Cup, the Rouge et Or lead the all-time head-to-head series 5-0, including a convincing 41-10 Mitchell Bowl win in the only previous duel at McMahon Stadium, in 2011.
Of course, the Dinos can take comfort in the fact they're not the only team that has struggled to solve the Laval mystery. The Quebec City powerhouse hasn't lost to an opponent other than Montreal since the 2011 Vanier Cup against …read more
Source:: Sportsnet.ca – Sport
(Visited 3 times, 1 visits today)