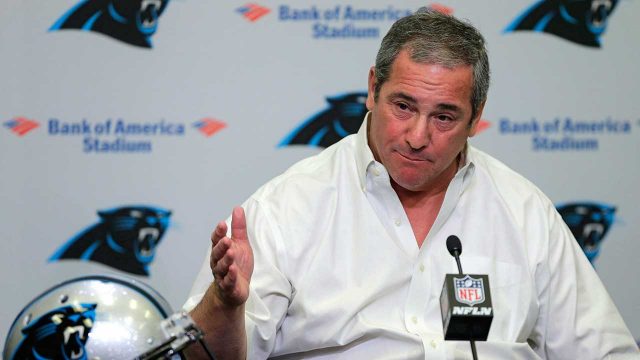 The Carolina Panthers shocked the football world Monday, firing general manager Dave Gettleman just eight days before the start of training camp.
Since start of year, Panthers have lost:
*President (resigned)
*GM (fired)
*Asst GM (resigned)
*DC (resigned)
Quite an offseason.
— Adam Schefter (@AdamSchefter) July 17, 2017
But while Gettleman's departure from a team just 18 months removed from a Super Bowl appearance came as a surprise to many fans and members of the media, some former Panthers players seemed to relish in the dismissal.
Josh Norman was the first to weigh in.
— *Joshua R. Norman (@J_No24) July 17, 2017
According to NFL Network's Ian Rapoport, the problems between Gettleman and owner Jerry Richardson may have started when the Panthers allowed the star cornerback to hit free agency last summer. The 29-year-old eventually signed a five-year, $75-million deal with Washington.
Now-retired receiver Steve Smith Sr. also had his say in the most Steve Smith way possible.
Its Okay! Dave I know how you feel….. #agent89 #stevesmithsr pic.twitter.com/czlwuG92Ck
— Steve Smith Sr (@89SteveSmith) July 17, 2017
The Panthers all-time leading receiver was released by Gettleman following the 2013 season, a move of which …read more
Source:: Sportsnet.ca – Sport