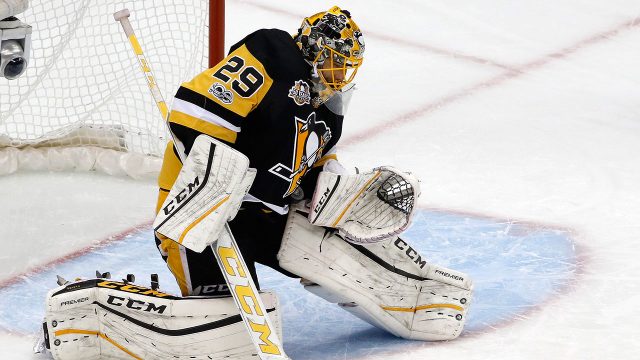 If these are, in fact, Marc-Andre Fleury's final days in Pittsburgh, he's certainly making them count.
The longtime Penguins netminder officially unveiled a brand new playground at the Sto-Ken-Rox Boys & Girls Club in Pittsburgh — a project he had been working on with his wife, Veronique, and the Penguins Foundation.
Penguins Foundation on Twitter
Project 29 is underway at The Boys and Girls Club!
"It's been something we've been thinking about for a little while, and we were just thinking about something to give back," Fleury said, via NHL.com. "The people of Pittsburgh have been so good to me, so to build something fun, something for the kids, I'm glad it all came out and the kids seem to like it."
The playground is open! Thank you Fleury for this wonderful playground #Project29 @BGCMA_Clubs pic.twitter.com/tu4Lk5C3SA
— Penguins Foundation (@pensfoundation) June 19, 2017
The Fleury family's donation also includes sports equipment and games, as well as hockey nets and equipment for the indoor dek hockey rink now called Rink 29.
"We just wanted to make sure we could leave something behind. And we're excited. We're just very proud and happy today," said Veronique Fleury. …read more
Source:: Sportsnet.ca – Sport